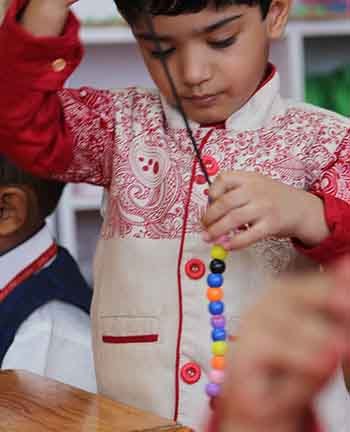 BE THE CHANGE
Our vision is to take advantage of the teachable moments that happen every day and inspire a lifelong commitment to learning in children. We aim to inculcate the following:
Promote a sense of self-identity to develop confidence and independence.
Develop good moral values and respect for ones and other people's cultures and beliefs.
Develop social competency to enable them to work individually as well as in groups.
Provide a stimulating environment to enable each child to attain the fullest of his/her potential.
To Guide each child to become a "Responsible Global citizen"
Parents Speak
""Danica is doing well and has learnt many things. She starts writing number and alphabet. She also starts behaving like a good girl. She loves to come to school. Thanks""
Raj K Singh
(Father of Danica : Saplings)
"I have noticed a remarkable improvement in Rounak after sending him to School. He has developed a lot of skills that he has learnt here. Thank you"
Ruplekha
(Mother of Rounak: Roots)
"Keisha has shown improvement and has started to say "Sorry". We look forward to more such improvements. Thank you Teachers"
Swati
(Mother of Keisha: Roots)