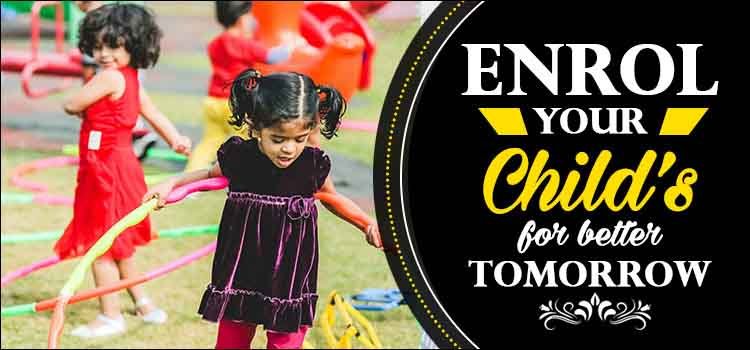 What makes Chalk Tree the Best playschools in Gurgaon
Believing that kid's mind undergo remarkable development in the formative six years, sending them to school makes a great difference. Play School in 57 Gurgaon, gurgaon promote structured, safe and spontaneous learning environment to acquaint kids with the environment outside, the safe enclosure of their home. The bright colorful walls of these schools mesmerize young mind and keep them involved in active thinking. At Chalk Tree Global School, we home kids of the age group of 2-5 years in our play section. At such an early stage, children are more comfortable at home, so we aspire to provide them that motherly love while getting them involved in playful activities. We focus on making our kids comfortable as they are really cranky to handle at the beginning. Believing that, you can't make anyone learn but can only provide an environment that instigates learning. We make them realize that they are miraculous to inculcate positive expression and confidence in them. We value their opinion, needs and make all possible efforts to amp up their understanding. This maintained for us, the accolade of being the Playschools in sector 56 Gurgaon.
Our well-trained staff and attractive & spacious classroom are apt to conduct lessons for phonics instruction, baby yoga, storytelling, music, and drama and other activities. We promote learning by playing, and for this we unleash innovative activities like free and guided play to develop creativity, playing in the sand to develop motor skills, using puppets for story-telling. We interest young minds by commencing activities like splashing around in a kiddie's pool. We promote learning by action, songs, art and craft, circle time activities, role play, dance, sports, and theatre etc. To acquaint them with mathematical concepts, we provide opportunities for adding, sorting, and patterning.
The curriculum of playschool is based on thematic learning which emphasis on the maturity of the cognitive, motor, emotional, and social knack while encouraging the learning of language and numeracy. We are a team of strongly influenced trainers having a thorough understanding of early childhood and its stages. We promote learner-centered activity-based learning in a fun-filled environment. Following the principle of integrated education, we focus on the all-round development of young minds by allowing them to explore, experiment, observe and make conclusions.
What we provide to play section
Leisure space with myriad Toys
Library piled with colorful and simple Reading Materials
Art and craft wall to enable Visual Learning
Play space with multiple props
Ergonomically Fitted Seats in Spacious Rooms.
Discovery area to arouse curiosity
To encourage learning in young minds we endorse Role Play, Dramatics,Math & Manipulative activities and Art & Craft. Here we help kids in the development of bodily-kinesthetic, visual-spatial, inter and intrapersonal, verbal and linguistic, logical and mathematical, creative expression, general awareness, and all other such skills. To maintain a significant relationship with kids is of great worth, to win their tiny hearts and to promote healthy learning. We make all possible efforts to carve a niche as being the Best Play School in 57 Gurgaon.
As one of the best playschools in Gurgaon, Chalk Tree understands the needs of your little ones. To provide a happy and healthy environment, our teachers and staff strive hard to make learning fun.
Chalk Tree Global School – Best Playschools in Gurgaon
At Chalk Tree, teachers are trained to deal with small children. They are allowed to flourish and express their creativity through various activities such as:
Art and Craft
Collage Making
Clay Modelling
Puppet Shows
Building Blocks

Overall Growth of Children at Best Playschool in Gurgaon

The finest playschools in gurugram emphasize on the overall growth of a child. Different types of child-centric activities are encouraged here. The focus is on:

Hands-on learning
Inculcating reading and writing skills through activities
Small group activities
Developing social skills of sharing, kindness towards others and being patient

If you are looking for the Play schools in sector 57, gurgaon, Chalk Tree Global School provides the ideal environment for little children. Get in touch with us now at +91 7701872424.