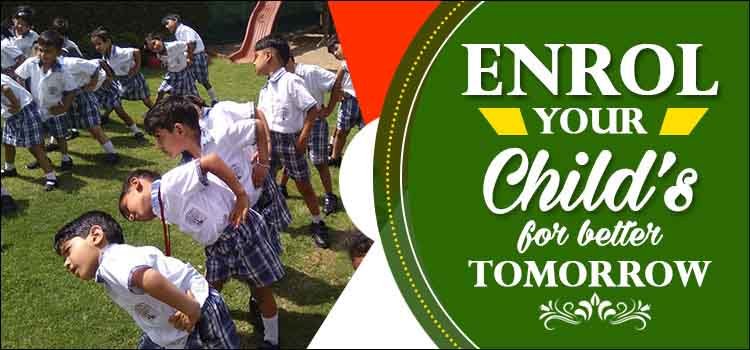 Chalk Tree is one of the best school gurgaon
It is a saying that early education is crucial than later one, as most of the child's intellectual development paces at this stage. Believing this, Chalk Tree Global School ensures to equip children with finest learning programs to enrich their learning. Our innovative and curate team makes it possible to understand the individual needs to support them with solo and group learning opportunities. This is what contributes us to be one of the Best schools in sector 57 gurgaon. Things learned at this stage have a lifelong remembrance and so should be planned accordingly. To pursue wholesome learning, we promote life skill driven culture. Our primary grades ensure a seamless transition from the pre-primary group with admirable teaching skills.
Children learn only when they are prepared for learning. For this, we try to bring them under the adaptable environment which evokes their interest. We endow them with all favorable opportunities to ensure their active participation.
We try to provide them a firm rooted base to inculcate for them an impression of self, surrounding and nation and to provide them the ability to face challenges posed by the fast-paced world. Though it would not ascertain their excellence, but surely equip them with the best experience. We enable them with confidence in themselves and in a situation to win over. We evoke them to make practical application of things learned through books. Believing dreams to be the seedling of reality, we encourage their imagination and creativity. Our resourceful infrastructure and staff follow ground-breaking and stimulating methodologies to synergize optimal prospects for learning. We let them take flight on the wings of imagination so that they feel self-motivated and paint their canvas of life uniquely. Individuality of our kids matter to us, and thus we maintain flexibility in activities to provide them with constructive learning opportunities. Over years of service, we have carved a niche as being one of the favorite School in Sector 57 Gurgaon among parents and kids.
To bring stability in technologically driven world and parents' anxiety of child's upbringing, we ensure age-appropriate exposure to technology and have equipped our premises with CCTV surveillance. We provide relevant updates through mobile app so that you can notice the development of your child. Our optimal teacher children ratio is what helps our teachers to pay individual attention to each child to nurture him as a free being. Along with cognitive development, we engage them in physical activities for the physical development of fine and gross motor skills. For this, we offer activities like Slide & Swings, drawing & painting, music, dance, storytelling and enacting, free sandpit play and so on.
With all this, we have managed to achieve the accolade of being Schools in Sector 57 Gurgaon.
The innovative teaching methods at the best school for admission in gurgaon make them perfect places for your little ones to learn life skills. Trained teaching and non-teaching staff at schools like Chalk Tree Global school design learning strategies suitable for every child.
Pick Best School in Gurgaon
A stimulating environment encourages children to flourish. The best schools prepare children for the challenges posed by the modern world. Our teaching methodologies help children in multiple ways.
It empowers them to independently face challenges
Be innovative and creative
Develop self-confidence and remain motivated

Chalk Tree – Best School in Gurgaon

If you are looking for the Best schools in gurgaon with fee structure, get in touch with Chalk Tree. We offer the best facilities for children of all ages.

Secure and safe environment
Brilliant teacher-student ratio
CCTV surveillance
Access to Innovative Learning Methods

The best school in Gurgaon, Chalk Tree Global School, helps to nurture the cognitive and physical development of students. Enquire about admissions at +91 7701872424 or +91 8800885560.